Mutual Nondisclosure Agreement
Form for mutually shared confidential information
---
Safeguard confidential information shared between parties with our customizable Mutual Non-Disclosure Agreement. Our legally binding template protects your interests, defines the scope of information, and provides clear procedures for handling breaches. Save time and effort with our expertly crafted form, ensuring compliance with applicable laws and regulations.
Document Preview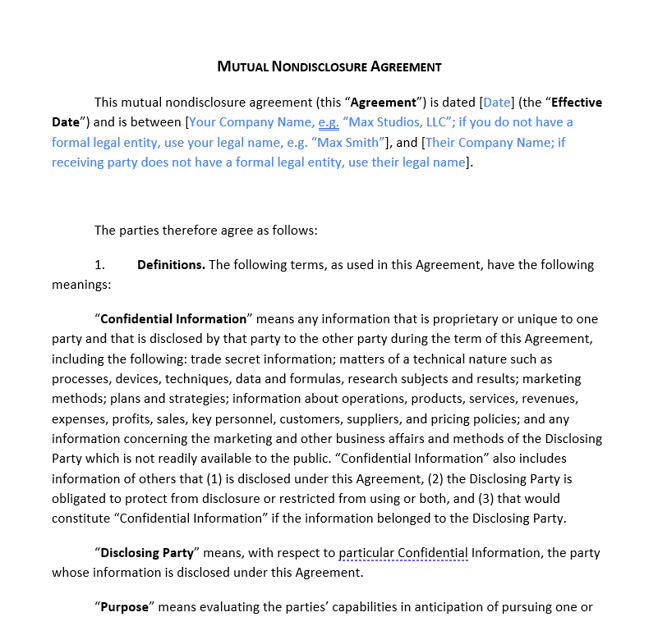 Protect confidential information with our customizable Mutual Non-Disclosure Agreement. Our legally binding template includes the following important sections:
Definition of Confidential Information: Defines the scope of confidential information to be protected.
Purpose: Describes the purpose of the agreement and the parties involved.
Obligations of the Parties: Outlines the responsibilities of each party to maintain confidentiality.
Exclusions: Specifies the information that is excluded from the agreement.
Term and Termination: Describes the duration of the agreement and the conditions for termination.
Remedies: Details the legal remedies available in case of breach of the agreement.
Governing Law: Specifies the law that will govern the agreement.
Notice: Defines the procedure for giving notice under the agreement.
Benefits of using our Mutual Non-Disclosure Agreement include:
Customizable to fit your unique business needs
Easy-to-follow, step-by-step instructions
Compliant with state and federal laws and regulations
Professionally drafted by legal experts
Saves time and reduces potential legal disputes
Protects confidential information by providing clear procedures and legal remedies
Solidifies the relationship between parties by establishing mutual trust and respect
Ensures flexibility as your business evolves
Why Choose Legal GPS for your Legal Contract Templates?
At Legal GPS, we are committed to providing high-quality, legally compliant contract templates that save you time, money, and stress. Our team of legal experts and industry professionals work diligently to ensure our templates are up-to-date with the latest legal requirements while remaining user-friendly and easily customizable. We offer a 30-day money-back guarantee if you aren't satisfied.