Bylaws for Nonprofit Organization
Form for a Nonprofit Organization
---
Elevate your nonprofit's governance with our comprehensive bylaws template. Crafted by legal experts, our customizable template ensures compliance and clarity. Streamline board operations, decision-making, and member rights. Start building a solid foundation for your organization's success now!
Document Preview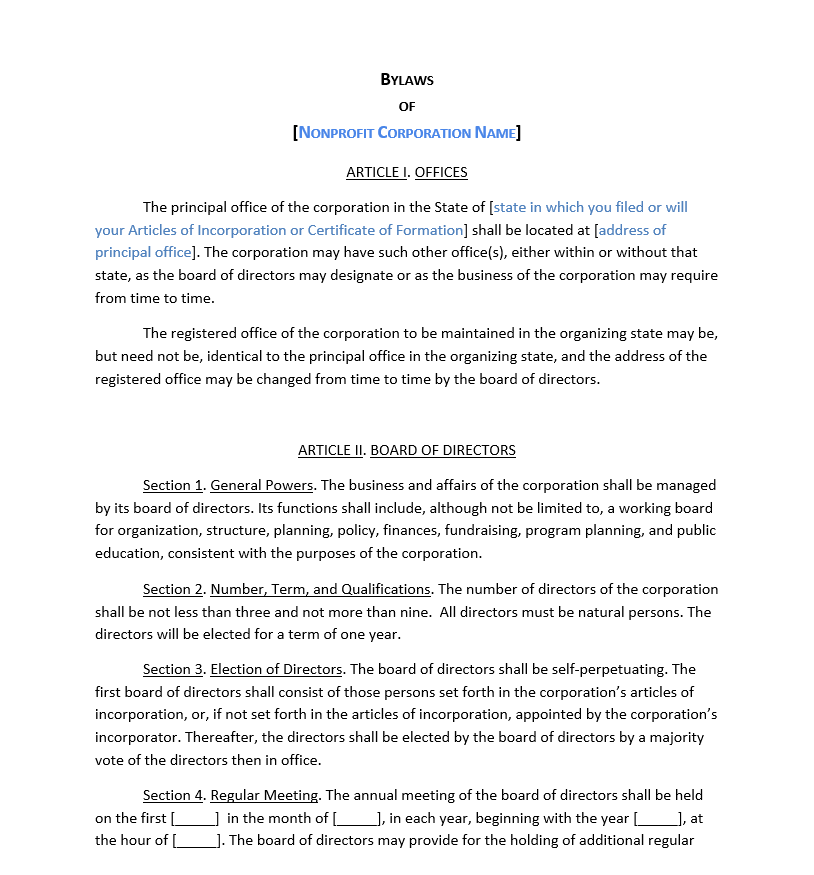 Our Bylaws for Nonprofit template provides a solid foundation for creating a well-structured and legally compliant framework for your nonprofit organization. These bylaws outline the rules and procedures that govern the internal operations, management, and decision-making processes of your nonprofit. They cover important aspects such as the purpose and mission of the organization, board composition and responsibilities, officer roles and duties, meeting procedures, financial management guidelines, and conflict of interest policies. By utilizing our comprehensive template, you can ensure transparency, accountability, and adherence to legal requirements, while effectively managing your nonprofit's activities and promoting its mission.
Why Choose Legal GPS for your Legal Contract Templates?
At Legal GPS, we are committed to providing high-quality, legally compliant contract templates that save you time, money, and stress. Our team of legal experts and industry professionals work diligently to ensure our templates are up-to-date with the latest legal requirements while remaining user-friendly and easily customizable. We offer a 30-day money-back guarantee if you aren't satisfied.