Consulting/Coaching Policies
Form for Consulting/Coaching Policies
---
Consulting/Coaching Policies are essential documents that establish the terms and conditions for consulting or coaching engagements. These policies cover key aspects such as the scope of services provided, confidentiality requirements, payment terms and schedules, cancellation and rescheduling policies, expectations for both parties, and procedures for handling disputes. By implementing these policies, consultants and coaches can establish clear guidelines and expectations, while clients can understand the rules and procedures governing the engagement, ensuring a smooth and mutually beneficial working relationship.
Document Preview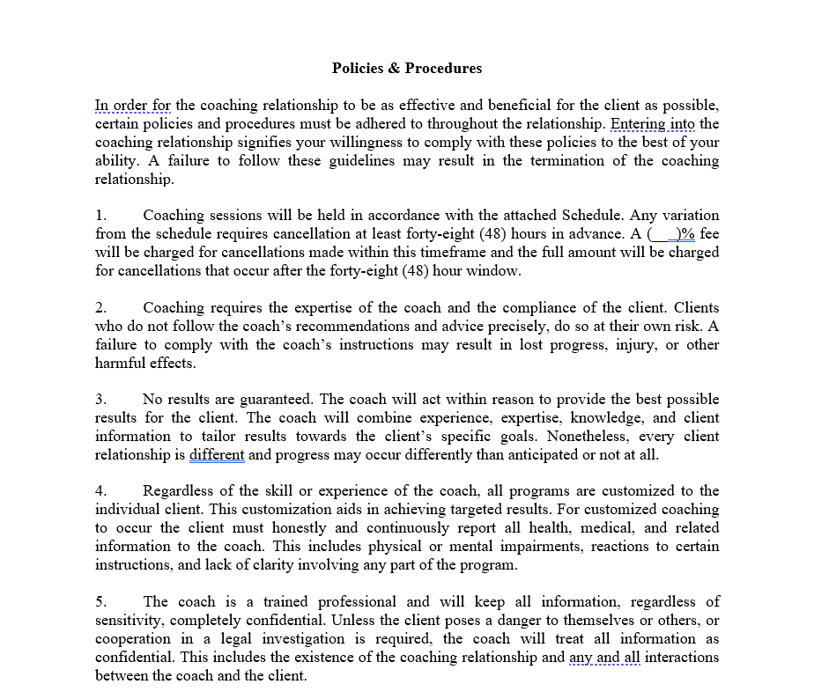 Consulting/Coaching Policies are comprehensive documents that outline the policies and procedures governing consulting or coaching engagements.
These policies cover various important aspects, including the scope of services offered, confidentiality requirements to protect sensitive information shared during the engagement, payment terms, including rates, billing schedules, and accepted payment methods, cancellation and rescheduling policies, outlining any fees or notice periods involved, the responsibilities and expectations of both the consultant/coach and the client, and procedures for resolving any disputes that may arise during the engagement.
By establishing and adhering to these policies, consultants and coaches can ensure clarity, professionalism, and consistency in their client engagements, while clients can have a clear understanding of the terms and conditions of the consulting or coaching relationship.
Why Choose Legal GPS for your Legal Contract Templates?
At Legal GPS, we are committed to providing high-quality, legally compliant contract templates that save you time, money, and stress. Our team of legal experts and industry professionals work diligently to ensure our templates are up-to-date with the latest legal requirements while remaining user-friendly and easily customizable. We offer a 30-day money-back guarantee if you aren't satisfied.