Contract for the Sale of Goods
Form for legally binding sale and purchase of goods
---
Our Contract for the Sale of Goods template streamlines your sale transactions. This document, expertly crafted by legal professionals, delineates rights, obligations, and specifics of the goods to be sold. By providing clarity and protection to both buyers and sellers, it mitigates potential disputes and fosters a smooth business transaction.
Document Preview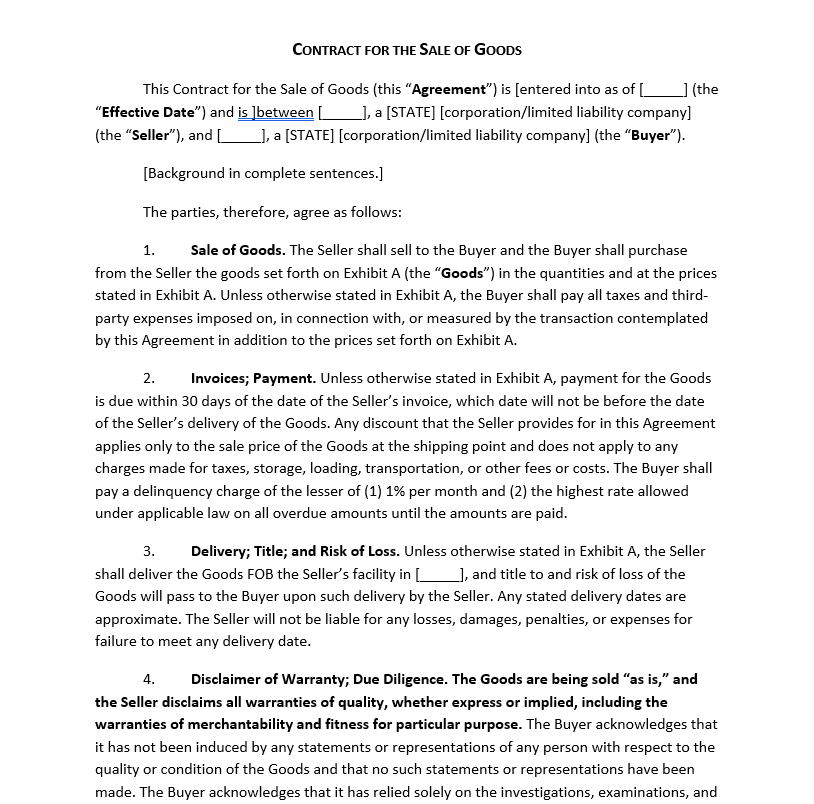 The sale of goods requires careful handling to avoid complications. Our Contract for the Sale of Goods template is your indispensable tool for this. Created by legal professionals, it captures all vital elements of a sale transaction, from description of the goods, price, delivery terms, to warranties and dispute resolution mechanisms.
This comprehensive document not only facilitates mutual understanding between buyer and seller but also helps prevent disputes by addressing potential areas of contention upfront. With customizable sections to fit your unique needs, it ensures a smooth, fair, and legally sound transaction for all parties involved.
Why Choose Legal GPS for your Legal Contract Templates?
At Legal GPS, we are committed to providing high-quality, legally compliant contract templates that save you time, money, and stress. Our team of legal experts and industry professionals work diligently to ensure our templates are up-to-date with the latest legal requirements while remaining user-friendly and easily customizable. We offer a 30-day money-back guarantee if you aren't satisfied.