Distribution Agreement
Form for defining terms of a product distribution relationship
---
Establish successful distribution relationships with our Distribution Agreement template. It clearly defines the terms of distribution, including rights, responsibilities, and territory specifics. This ensures smooth operations, mutual understanding, and a harmonious business relationship in your distribution network.
Document Preview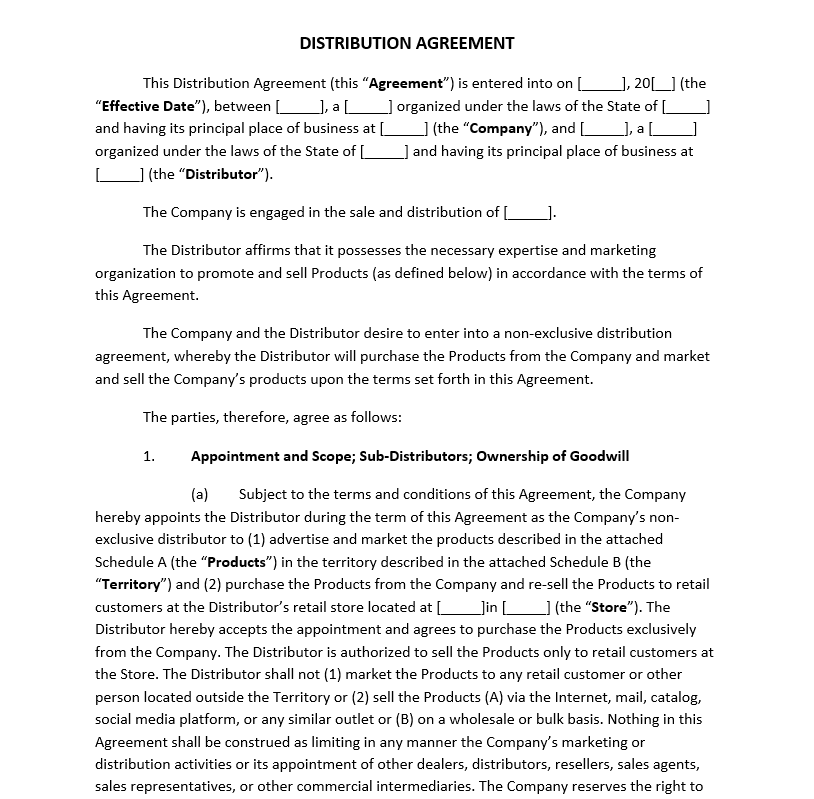 In the business of product distribution, clear agreements form the backbone of successful relationships. Our Distribution Agreement template provides a robust tool to define these relationships. Expertly crafted, it outlines the terms of distribution, including distribution rights, responsibilities, pricing, territory specifics, and terms of termination. This document ensures that all parties understand their roles, fostering a harmonious business relationship and smooth operational flow.
By clearly establishing the terms of the agreement, it serves to prevent potential disputes and provides a legal safeguard in case of disagreements. With the option to customize it to your specific needs, our template provides a comprehensive solution for your distribution business.
Why Choose Legal GPS for your Legal Contract Templates?
At Legal GPS, we are committed to providing high-quality, legally compliant contract templates that save you time, money, and stress. Our team of legal experts and industry professionals work diligently to ensure our templates are up-to-date with the latest legal requirements while remaining user-friendly and easily customizable. We offer a 30-day money-back guarantee if you aren't satisfied.