Equipment Lease
Form for renting or leasing equipment
---
Simplify equipment leasing with our robust legal template. This document provides a comprehensive framework, outlining essential terms, obligations, and protections, facilitating a seamless transaction and minimizing potential disputes.
Document Preview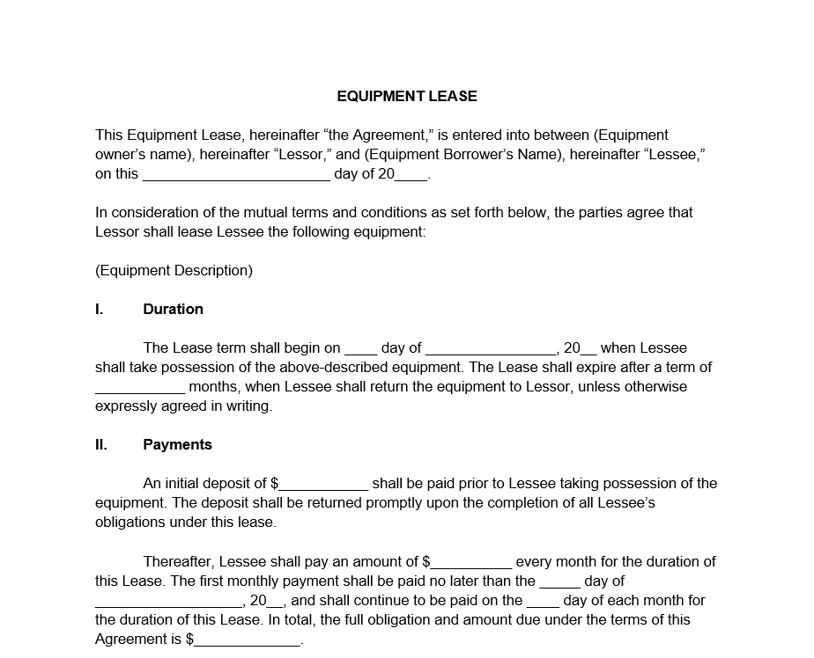 Our versatile legal template for Equipment Lease is the ultimate solution to streamline your equipment leasing process. With this comprehensive document, you can confidently navigate the complexities of equipment leasing, ensuring a smooth and hassle-free experience for both parties involved.
Designed to protect the interests of both the lessor and lessee, our template establishes clear expectations, terms, and responsibilities. It leaves no room for ambiguity or misunderstandings, providing a solid foundation for a mutually beneficial arrangement.
By utilizing our legal template, you can clearly outline the specifics of the lease, including the duration, payment terms, and conditions for equipment use. This clarity minimizes the risk of disputes and fosters a transparent relationship between the lessor and lessee.
Why Choose Legal GPS for your Legal Contract Templates?
At Legal GPS, we are committed to providing high-quality, legally compliant contract templates that save you time, money, and stress. Our team of legal experts and industry professionals work diligently to ensure our templates are up-to-date with the latest legal requirements while remaining user-friendly and easily customizable. We offer a 30-day money-back guarantee if you aren't satisfied.