Multi-Member LLC Operating Agreement
Form for a Member-Managed LLC with more than one owner
---
Starting a multi-member LLC? Our professionally crafted Multi-Member LLC Operating Agreement template provides you with the essential framework to define the ownership, management, and operational structure of your business. Save time and money by using our easy-to-customize template, designed by legal experts to protect your interests and ensure compliance with relevant laws and regulations.
Document Preview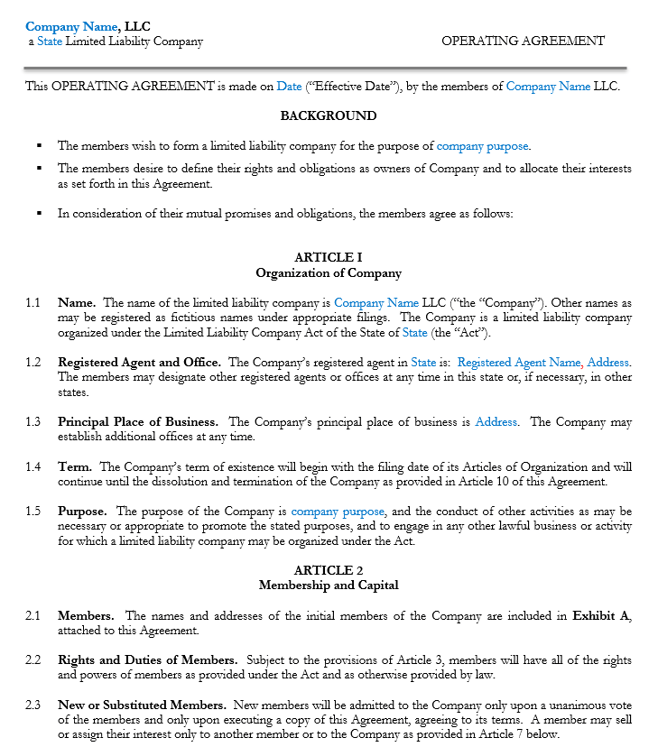 To get started, simply purchase the template and download it to your device. You can then customize it according to your business requirements. Our template includes the following important sections:
Company Formation: Establishes the name, purpose, and duration of your LLC, along with its principal place of business.
Taxation: Explains the S Corporation tax election and the member's responsibility for tax filings and payments.
Capital Contributions: Details the initial contributions made by the member and the process for making additional contributions in the future.
Distributions: Defines how profits and losses will be allocated and distributed to the member.
Indemnification and Limitation of Liability: Protects the manager from personal liability for certain actions taken on behalf of the LLC.
Dissolution: Describes the process and conditions for dissolving the LLC, including the distribution of assets and liabilities.
Amendments: Specifies the procedure for amending the operating agreement, ensuring flexibility as your business grows.
Some of the benefits of using this single-member, manager-managed operating agreement include:
The agreement is customizable to fit your unique business needs
Easy-to-follow, step-by-step instructions
Compliant with state laws and regulations
Professionally drafted by legal experts
Saves time and reduces potential legal disputes
Protects your personal assets by solidifying the LLC structure
This form is appropriate for multi-member, member-managed LLCs. If you don't meet all these criteria, these operating agreements might be better for you:
Why Choose Legal GPS for your Legal Contract Templates?
At Legal GPS, we are committed to providing high-quality, legally compliant contract templates that save you time, money, and stress. Our team of legal experts and industry professionals work diligently to ensure our templates are up-to-date with the latest legal requirements while remaining user-friendly and easily customizable. We offer a 30-day money-back guarantee if you aren't satisfied.