Noncompetition Agreement (Asset Purchase Agreement)
Form for non-competition terms in an Asset Purchase Agreement
---
Secure your purchased business assets with our Noncompetition Agreement template. Designed for Asset Purchase Agreements, it defines clear non-competition terms, ensuring the protection of your acquired assets and interests from potential unfair competition by the seller.
Document Preview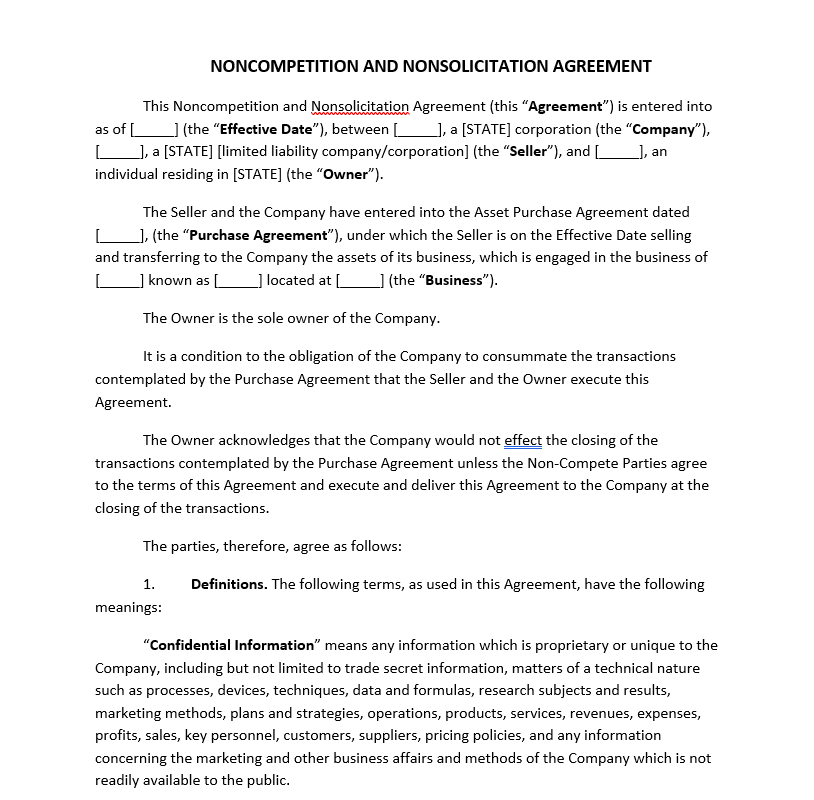 Purchasing business assets often comes with the risk of the seller entering into direct competition post-transaction. Our Noncompetition Agreement template designed for Asset Purchase Agreements offers a solution for this. Expertly crafted, this document sets out the non-competition terms including duration, geographic scope, and types of activities covered. It ensures the protection of your acquired business interests against any potential unfair competition by the seller.
By establishing a clear understanding and agreement of these terms, it reduces potential disputes and fosters a fair business environment. With the ability to tailor the document to your unique circumstances, you can confidently secure your asset purchases.
Why Choose Legal GPS for your Legal Contract Templates?
At Legal GPS, we are committed to providing high-quality, legally compliant contract templates that save you time, money, and stress. Our team of legal experts and industry professionals work diligently to ensure our templates are up-to-date with the latest legal requirements while remaining user-friendly and easily customizable. We offer a 30-day money-back guarantee if you aren't satisfied.