Noncompetition Agreement (Employee)
Form for employee non-competition terms and conditions
---
Preserve your business integrity with our Employee Noncompetition Agreement template. Designed by legal professionals, this document clearly outlines the terms and conditions of non-competition, helping protect trade secrets and preventing any unfair business practices from former employees.
Document Preview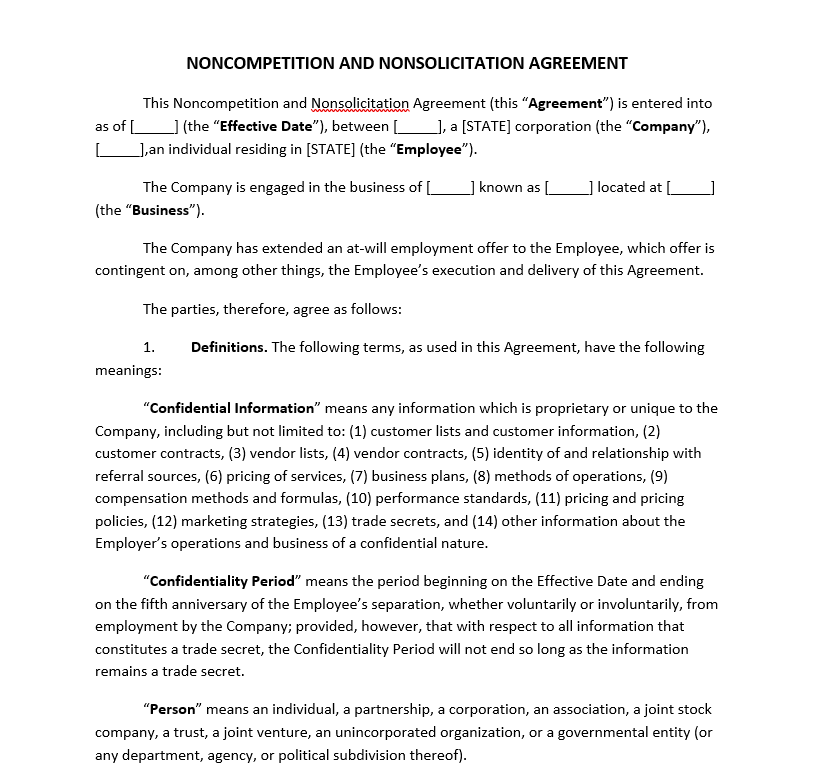 In today's competitive business environment, protecting your trade secrets and business interests is paramount. Our Employee Noncompetition Agreement template provides a comprehensive solution for this. It defines clear non-competition terms, including the duration, geographic scope, and type of activities prohibited. This document, designed by legal professionals, helps prevent former employees from engaging in unfair competition or disclosing sensitive business information.
By creating mutual understanding and agreement on these terms, it serves to reduce potential disputes and legal complications, thereby offering a solid layer of protection for your business interests. This template can be tailored to your specific needs, providing you with a reliable legal tool for safeguarding your business.
Why Choose Legal GPS for your Legal Contract Templates?
At Legal GPS, we are committed to providing high-quality, legally compliant contract templates that save you time, money, and stress. Our team of legal experts and industry professionals work diligently to ensure our templates are up-to-date with the latest legal requirements while remaining user-friendly and easily customizable. We offer a 30-day money-back guarantee if you aren't satisfied.