Noncompetition Agreement (Stock Purchase Agreement)
Form for non-competition terms in a Stock Purchase Agreement
---
Ensure your business is safeguarded against unfair competition with our Noncompetition Agreement template. Crafted specifically for Stock Purchase Agreements, it establishes clear non-competition terms that protect the buyer's interest in the business, ensuring a fair and balanced business environment.
Document Preview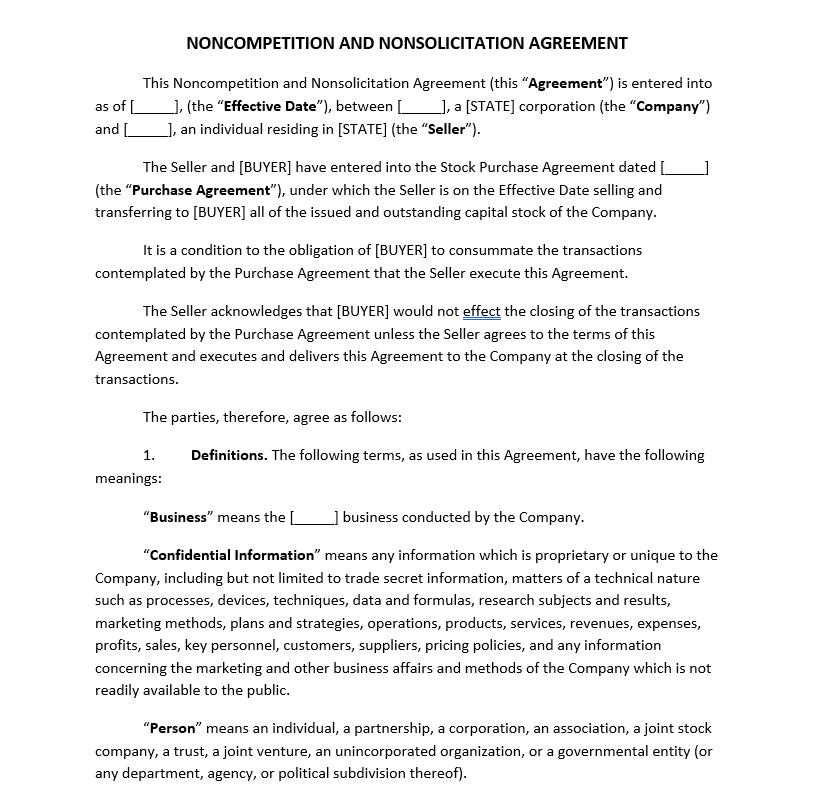 In a Stock Purchase Agreement, protecting the buyer's interest against unfair competition is vital. Our Noncompetition Agreement template serves this purpose perfectly. Expertly crafted, it defines the terms of non-competition, including duration, geographic scope, and activities covered, ensuring the buyer's acquired business interests are well protected.
This comprehensive document provides a legal safeguard against potential harm from the seller's future business activities that may be in direct competition with the purchased business. By clarifying and mutually agreeing upon these terms, it fosters a fair business environment and reduces potential disputes, offering peace of mind in your business transactions.
Why Choose Legal GPS for your Legal Contract Templates?
At Legal GPS, we are committed to providing high-quality, legally compliant contract templates that save you time, money, and stress. Our team of legal experts and industry professionals work diligently to ensure our templates are up-to-date with the latest legal requirements while remaining user-friendly and easily customizable. We offer a 30-day money-back guarantee if you aren't satisfied.