Third Party Marketing Agreement
Form for defining terms of third party marketing collaboration
---
Unlock the potential of strategic partnerships with a well-crafted Third Party Marketing Agreement. Establish clear terms, protect intellectual property, and outline marketing responsibilities. Collaborate confidently and drive mutual growth. Order your customized document today!
Document Preview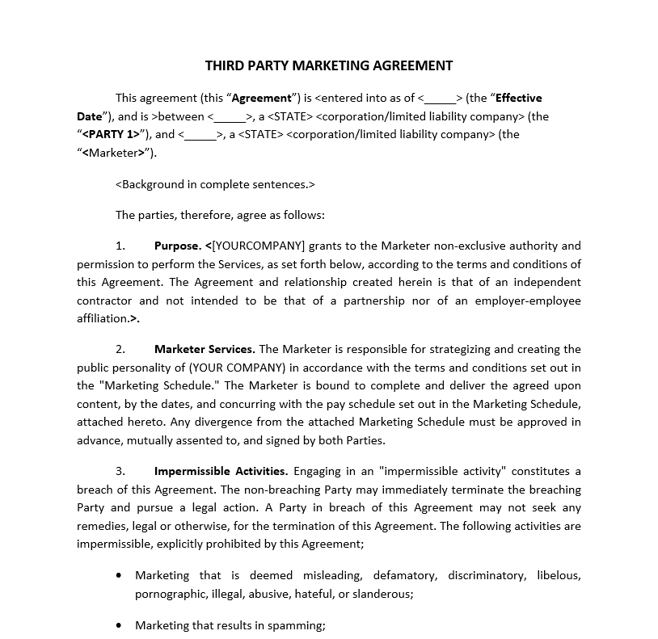 Harness the power of collaboration and expand your marketing horizons with a meticulously drafted Third Party Marketing Agreement. This versatile document enables you to establish fruitful partnerships, outline marketing objectives, and protect intellectual property. From defining target markets to joint promotional activities, our tailored agreement sets the framework for effective collaboration. Streamline operations, amplify brand exposure, and tap into new customer segments. Unlock growth potential—order your personalized Third Party Marketing Agreement today!
Why Choose Legal GPS for your Legal Contract Templates?
At Legal GPS, we are committed to providing high-quality, legally compliant contract templates that save you time, money, and stress. Our team of legal experts and industry professionals work diligently to ensure our templates are up-to-date with the latest legal requirements while remaining user-friendly and easily customizable. We offer a 30-day money-back guarantee if you aren't satisfied.