Venue License and Agreement
Form for renting or leasing venues
---
Enhance your event planning experience with our versatile venue license and agreement template. This document provides a comprehensive framework, covering legal requirements, terms, and conditions for utilizing the venue, ensuring a seamless and successful event.
Document Preview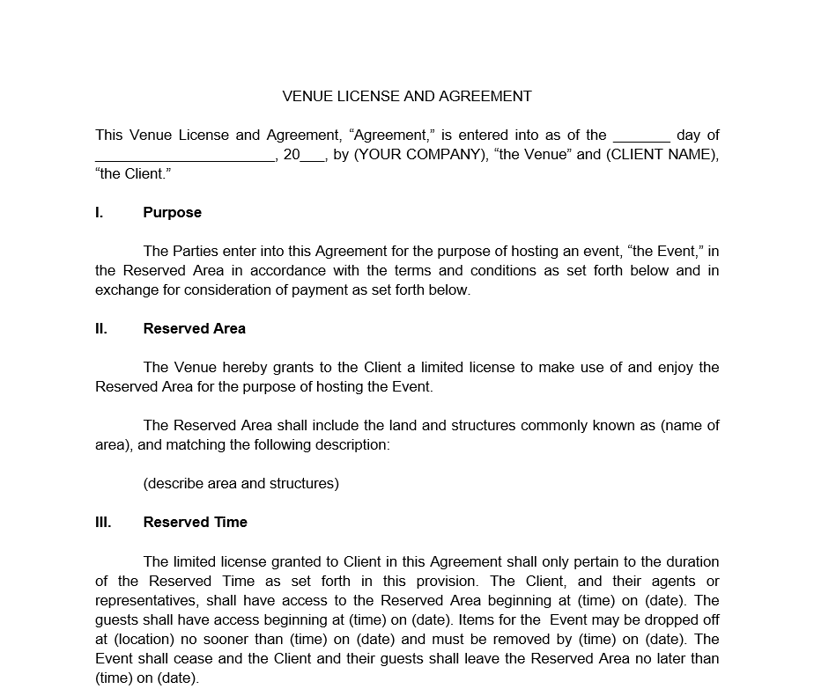 Optimize your event planning process with our all-inclusive venue license and agreement template. Designed to address the legal aspects and logistical considerations, this document establishes clear terms, rights, and responsibilities between the venue owner and the event organizer.
It covers crucial elements such as rental fees, usage restrictions, liability, insurance requirements, and termination conditions. By utilizing our template, you can ensure legal compliance, minimize risks, and create a solid foundation for a successful event, allowing you to focus on the details that matter most.
Why Choose Legal GPS for your Legal Contract Templates?
At Legal GPS, we are committed to providing high-quality, legally compliant contract templates that save you time, money, and stress. Our team of legal experts and industry professionals work diligently to ensure our templates are up-to-date with the latest legal requirements while remaining user-friendly and easily customizable. We offer a 30-day money-back guarantee if you aren't satisfied.