Waiver and Release for Fitness Instruction
Forms for Fitness and Wellness Facilities
---
Safeguard your fitness instruction business with our professionally crafted Waiver and Release template. This legal document helps you protect your clients and minimize liability by clearly outlining the risks involved in physical activities. It allows you to obtain informed consent from participants and releases you from any legal claims arising from injuries or accidents. Easy to customize and use, our template ensures legal compliance and offers peace of mind for both you and your clients.
Document Preview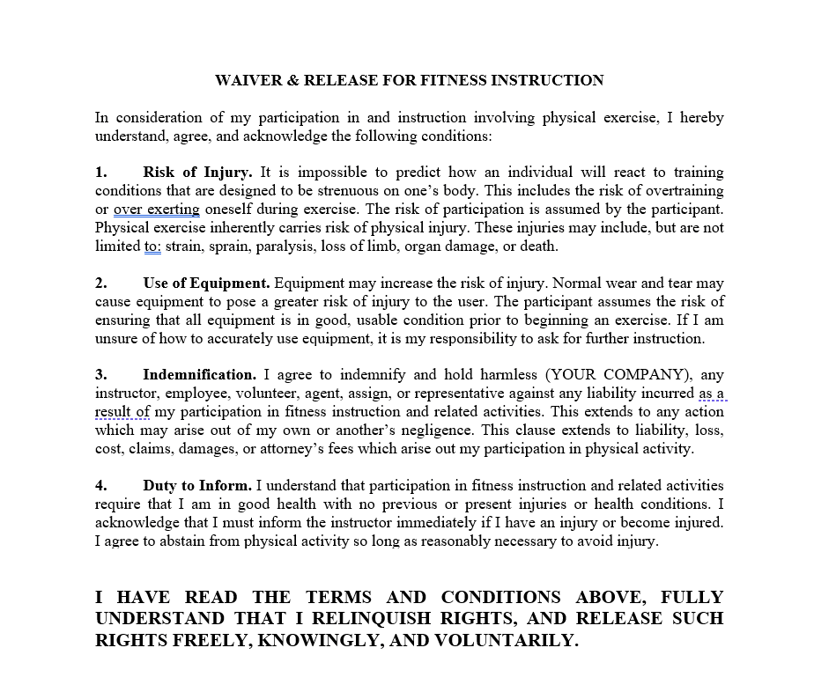 Enhance the security and longevity of your fitness business with a meticulously crafted Waiver and Release form. Our comprehensive document shields you from potential legal disputes, safeguards client rights, and establishes a safe and secure workout environment. By proactively managing liability, you can focus on providing exceptional fitness instruction. Don't compromise the future of your business—order your professional Waiver and Release form today!
Why Choose Legal GPS for your Legal Contract Templates?
At Legal GPS, we are committed to providing high-quality, legally compliant contract templates that save you time, money, and stress. Our team of legal experts and industry professionals work diligently to ensure our templates are up-to-date with the latest legal requirements while remaining user-friendly and easily customizable. We offer a 30-day money-back guarantee if you aren't satisfied.