Coworking Spaces and Shared Offices Bundle
Forms for Shared Working Spaces and Offices
---
A comprehensive bundle of editable legal contracts specifically designed for coworking spaces and shared offices. Our collection includes meticulously crafted agreements, leases, and licenses that cover all aspects of your operation. These customizable contracts will provide you with the legal protection and clarity you need for smooth and efficient business operations. Save time and resources by starting with our expertly written templates, and tailor them to suit your specific requirements. Ensure your coworking space operates on a solid legal foundation with our all-in-one contract bundle.
Document Preview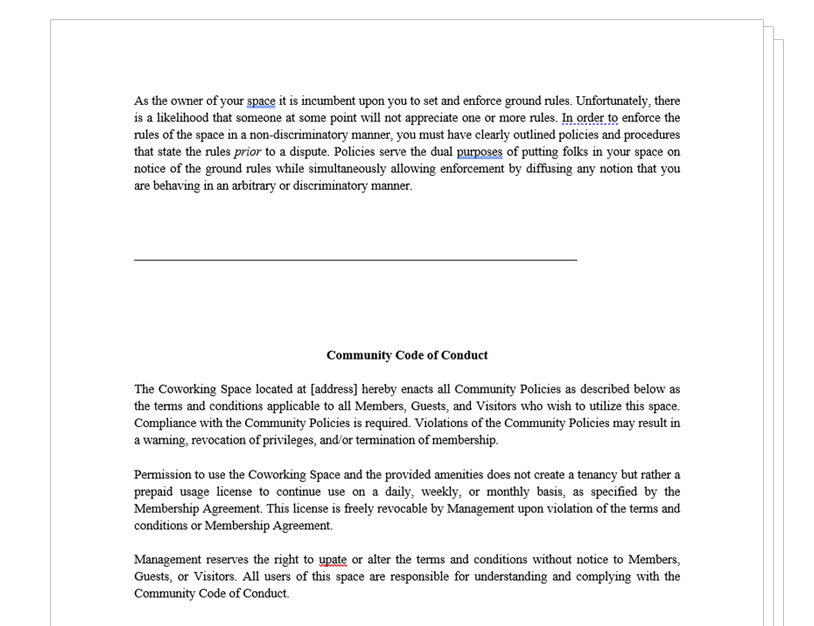 Our carefully curated collection covers a wide range of legal requirements, ensuring you have the necessary documentation to establish and operate your workspace with confidence. From membership agreements and liability waivers to privacy policies and sublease contracts, our editable templates are designed to save you time and effort in legal document creation. With our bundle, you can easily customize the contracts to suit your unique needs, giving you peace of mind and enabling you to focus on building a thriving coworking community. Simplify your legal processes and secure your coworking space today!
Why Choose Legal GPS for your Legal Contract Templates?
At Legal GPS, we are committed to providing high-quality, legally compliant contract templates that save you time, money, and stress. Our team of legal experts and industry professionals work diligently to ensure our templates are up-to-date with the latest legal requirements while remaining user-friendly and easily customizable. We offer a 30-day money-back guarantee if you aren't satisfied.